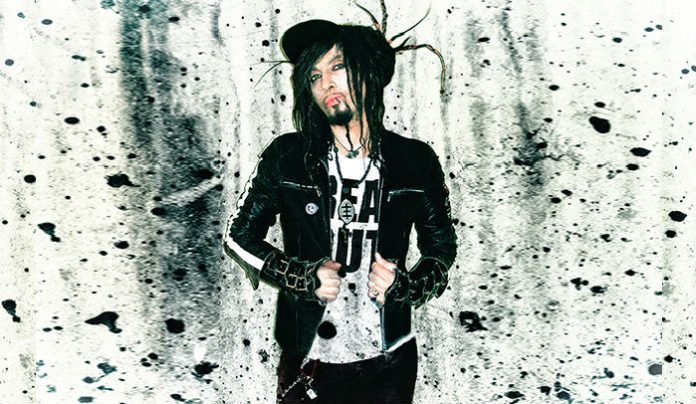 Next Saturday, 20th of January brings goa trance lovers once again in Sound Factory's program "Parallel Dimension". This time Kris Kylen is in charge of interdimensional journey, which gave us the opportunity to get to know him better.
At his early ages Kris began his musical path..at first he was programming drum machines and then he was a singer in a cold wave band called Dead End. As the years were passing by Kris moved deeper into electronic music in 1992. Today Kris is a well known figure, a goa trance pioneer, bringing 'outside of the box' music therapy. His most famous projects/collaborations are Ultimate Experience, Juno Reactor, Element over Nature and the most recent one are: Zero Dawn Apocalypse and Third Eye Channel Recs. His music expression variates from industrial, psy, trance, chillout and even rock music.
UES: Can you recall and describe us the first time you got yourself in contact with music?
KK: I was around 5 years old one my uncle had a serious sound system and a great collection of records some that I associated with and liked the most at the time, which was sci-fi movies or TV series with bands like Tangerine Dream, Kraftwerk, Vangelis, Klaus Schulze , Pink Floyd ect.
UES: You are a drummer, producer, singer, DJ… what do you prefer the most?
KK: All 'cause they are all a part of my inner self. To feel complete I need it all and it feels good to take a holiday from the Drummer, Producer and so on.. I am also a graphic designer that relaxes me from the bunch of my personality sides too.
UES: You've made quite an impact with UXs album Lasarus rising in 2016., and people are still awaiting the announced The Realm of A New Dawn album… any time soon?
KK: Thank you, yes it was quite a challenge to come back and start fresh after not making any trance related projects since the end of the 90's, so I came with a new formula, influenced from my closed relationship with Juno Reactor. I am glad that the first chapter of the album was well received with more than 22.000 downloads in few months . The complete 2 cd-set will hopefully come out mid 2018. on Neogoa Records, 3 songs are still missing for a full lenght cd 2.
UES: You are (and were) collaborating with various projects.. could you name few that influenced you the most?
KK: Juno Reactor, Killing joke, The 69 Eyes (Johnny Lee Michaels/producer), Amorphis (Jan Rechberger/Drummer – Producer) and Kloq (ex Empirion) influenced me the most as I was growing and progressing through my productions.
UES: Could you tell us more about your recent collaboration: Third Eye Channel Records?
KK: It's more Stevos Goa Trance label and project. I designed the logo, I help out and occasionally play drums live with him… we are talking about future releases.. too early yet to tell…
UES: As we know you are now staying in Zagreb.. is this your new homebase now or just a temporary ground?
KK: Time will tell, but I've always been more a nomad of modern times (Tunisian / Corsican heritage), the fact that also got my daughter Kylie Jolie based in Slovenia was a good choice too…
UES: Is it difficult to get used to a new way of life, new people, new mentality?
KK: Not really, when you have been touring for 22 years, you are used to it and it is exciting and vital for my art in general to meet new people and cultures.
UES: Any new stuff you would like to share with us?
KK: Yes I did start my new solo Techno/Electro, Producer/DJ project called "The Dark Prince"; did a remix for rising DJane/Producer Mila Dietrich coming soon on her new EP plus working on a 2 tracks release. The Ultimate Xperience album should be finished this year and numerous projects like my band "Zero Dawn Apocalypse" in the pipeline too..
UES: Thank you for the answers Kris, and for you readers we are revealing Kris's top 5 releases from 2017. of his choice,  which are presented throughout the interview. Also we are inviting you to Sound Factory where Kris will be playing DJ set, on 20th January, 2018. For all infos follow the link.
-MA-